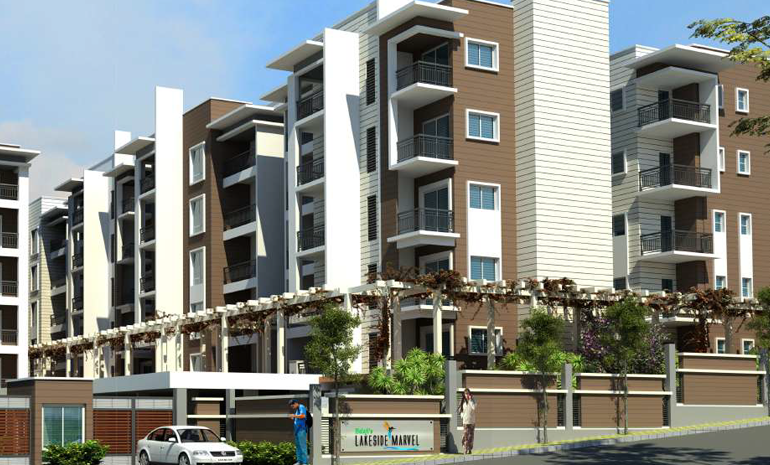 Lakeside Marvel
2&3 BHK Luxury Apartments
When you find everything you seek, happiness envelopes your life: the supreme happiness of being at the centre of a vibrant neighbourhood, that's next best to Banashankari II stage. The perfect comfort of being at home in a well-planned, contemporary lifestyle project. The promise of absolute pampering by a luxurious spread of amenities. The reassurance of trust that comes with developers who believe in constructing relationships. Welcome to life at Balaji's 'Lakeside Marvel'.
Sapthagiri Splendor Projects is a synergy of eminent architects and accomplished civil engineers with a shared objective to provide high quality, high value housing that meet the finest architectural and lifestyle standards. Our commitment is to build the future through a focus on excellence paired with professional yet personalized service. We seek to transcend horizons without losing sight of our valies - of trust,
Sapthagiri Developers is a Bangalore based real estate company. This company is built on a wealth of experience earning an excellent reputation for elegantly designed and crafted development of high quality homes. It is amazing what thoughtful design can achieve, enabling spaces to feel like a whole lot more. Your home is designed to let you make use of every niche and every nook so much that you can exactly visualize what's going where and still experiment with the space. The quality of home that we build unparalleled. The construction emanates from an imminently brilliant architect and civil engineer to provide high-value, high-quality housing of the finest architectural standards as well as new age amenities. At present, we have successfully completed several residential and commercial projects.
The Lakeside Marvel finds home at Uttarahalli, a vibrant yet peaceful, fast developing locale where good living is still a lot more affordable than in the neighbouring areas.Yet, the location is as self-contained as the best neighbourhoods in Bengaluru. In spotting vicinity too are iconic cultural destinations such as the temples in Basavanagudi, reputed academic institutions and world-class health care centres at Banashankari and JP Nagar, not to mention malls and multiplexes at Jayanagar, everything is just a kilometre away. The proximity to vibrant cultural and shopping locales of Basavanagudi and the post-residential neighbourhood of Banashankari and Jayanagar, hosting high-end retail and hospitality destinations, assure exclusivity and asset appreciation on par with these areas.
Grand plans for your life. In a choice of luxurious options. When minds meet, design delights. Before putting pencil to paper, the accomplished architectural minds spent time in reading your mind, interpreting your dreams, drawing inspiration from your lifestyle and translating these learnings on to the drawing board. The result is a lifestyle project that reflects intelligent planning, sensitive design and a grand elegance. Contemporary preferences and Vaastu principles come together in perfect harmony, creating homes that exude finesse, fine detailing and value-added specifications. Step into an apartment and spacious luxury greets you. Expansive rooms flow into each other, large windows and all apartments are open to 3 sides which fill the spaces with natural light and air. Every detail makes for homes that are the epitome of gracious living. The Lakeside Marvel is spread over 3 acres of land and brings together 160 residential units that accommodate a range of aspirations with a wide choice of 2 & 3 BHK units.